What are the special characteristics of a Rotary Exchange?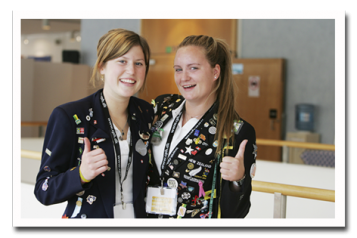 A Rotary Youth Exchange presents a very special opportunity. Exchange students are hosted by a Rotary club, so immediately you have both a support network and a social network with a club that is based around your local community. The club will be there to help you settle in and for you to be part of during your year away and they will have one of their club members as your counsellor so you have someone to go to during your year. Rotary is a global service organisation with over 1 million members so having an exchange programme operating as part of this global network brings a special dimension to being an exchange student – you won't be an exchange student, you will be a ROTARY exchange student with all of the associated advantages. Our returned student's tell us that they rate our program number one.
Students that have undertaken an exchange and their parents tell us that there are several aspects of a Rotary Exchange that they rate very highly.
Rotary Structure: Rotary is a well-known and respected global service organisation so it is well suited to utilise this network of clubs and members that have a common service focus, to administer an exchange programme. It provides an excellent support structure.

Certification: Each countries exchange programme must adopt the standard exchange requirements issued by Rotary International and each District and its clubs must complete an annual recertification process. This ensures common standards and processes for exchanges and the care of students.

Pre Departure Preparation: Returned students rate their pre-departure preparation very highly and report that they are very well prepared for most aspects of an exchange.

Rotary Club Hosting: Students are hosted by a Rotary Club. This ensures that the student has an immediate network of people to meet and settle in to the local culture. The extent of club involvement will vary by country but having a host Rotary club provides a comforting level of support for students

Rotary Activities: Most Rotary Districts will organise several activities for exchange students during the year and this provides the opportunity to meet fellow students from around the world and share the same exchange experience and become friends for life.

More than one Host family: Returning exchange students tell us that they really like staying with several host families. This gives them a variety of family experiences and the chance to see the culture of their host country from a different perspective each time. Having several host families also increases contacts and friends on exchange and students usually find they get to do different things with each host family.
An exchange is a unique opportunity to experience a country as a local and get to know its people, its culture, and lifestyle. It is a much more valuable and meaningful experience than seeing a country as a tourist. It is therefore an experience that is unlikely to be available later in life.
A perspective for parents (and students):
These brief videos provide an invaluable perspective on what to expect from an exchange. They will interest both parents and students. Brought to you by Maya Frost and her family
Part 1 of 3 Maya Frost Speaks to Rotary Youth Exchange Student's Parents (USA)
Part 2 of 3 Maya Frost Speaks to Rotary Youth Exchange Student's Parents (USA)
Part 3 of 3 Maya Frost Speaks to Rotary Youth Exchange Student's Parents (USA)